Field Services Experience & Safety
SWF Industrial brings decades of experience in field services. Equipped with expertise and precision, our Field Services division provides industry-leading on-site installation and maintenance services to customers across several industries. They trust SWF because our mature project management philosophy, combined with a team of highly skilled millwrights and fully certified foremen, ensures every project has a positive outcome.
At SWF Industrial, we bring our culture of experience, safety, reliability, and professionalism to every job site.
We integrate the safety standards our customers follow in their home facilities. Maintaining these standards daily prevents gaps between procedures, keeps our clients and team safe, and has built our record of on-site safety. Our experienced field crews apply these safe and efficient practices to complete each job safely and on time, helping us inspire confidence while building long-lasting relationships.
Field Services Experience You Can Count On
SWF's field services division provides reliable on-site installation and maintenance support to customers across the US. Whether we're called upon for equipment rigging and installation, industrial welding or pipefitting, ductwork, or structural steel components like mezzanines, SWF Industrial brings experience, safety, and reliability to any project. Our regimented project managers are also skilled in logistics and transit, capable of shipping loads of stainless or carbon steel and metal parts across the United States, including oversized loads.
Related Read: Case Study: Food Manufacturing Equipment Installation
Specializing in stainless steel, and fully proficient in carbon steel, aluminum, and other metals, our qualified field crew of millwrights safely and efficiently meet deadlines with work fabricated and installed to specification. Our large team of highly skilled welders works with state-of-the-art equipment to not only deliver up to the expectation, but also to enhance the design, strength, fit, finish, and performance of every product we craft.
Our on-site pipefitting and pipe welding services include process piping, sanitary, food-grade stainless steel piping systems, and skids. Through decades of experience, food, beverage, and pharmaceutical-grade piping systems have become second nature to our team. Our broad piping capabilities ranging from utility piping in your shop to jacketed piping for healthcare and commercial applications, are always be fabricated with precision and care.
In addition to fabrication and installation, we perform planned repairs and maintenance on equipment, platforms, machinery bases, ductwork and ventilation systems, stairs, railings, cages, guards, panels, beams, and other metal components found in industrial and commercial settings.
Below, we have included a partial list of our field service offerings.
SWF Industrial's Broad Range of Field Services:
EQUIPMENT RIGGING & INSTALL
INDUSTRIAL WELDING
PIPEFITTING & PIPE WELDING
STRUCTURAL & MISCELLANEOUS METALS
DUCTWORK INSTALLATION
EQUIPMENT REPAIR & MAINTENANCE
CUSTOM METALWORK INSTALL
TRANSIT & LOGISTICS
Job Site Safety Built-In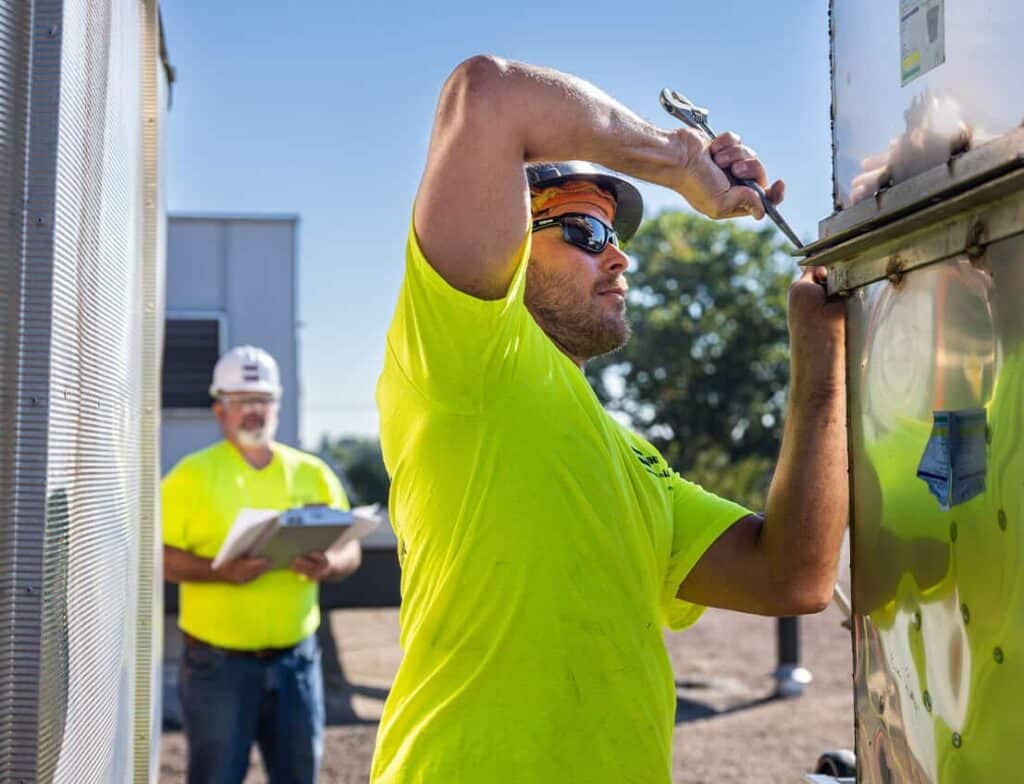 SWF works with industrial and commercial clients, contractors, and multi-national industry giants. By instilling the most rigorous national safety guidelines into our own culture, we ensure that we are entering the job site understanding each client's expectations of safety.
All our on-site millwrights, called mechanics, are at a minimum OSHA 10 certified, and all foremen are OSHA 30 certified. Every person working on the job site can call for a safety audit if they feel something is unsafe, allowing each member of the team to take personal ownership of safety.
At SWF Industrial, it's not just personal safety, it's ingrained into our culture to watch your teammates' backs, while they watch yours. Safety, as they say, is no accident – at SWF, it's a way of life.
Technical Integrations
Within every project, tradespeople, project managers, engineers, and customers play key roles in delivering optimal results, SWF has state-of-the-art technical integrations that bring everyone together as if they were in the same room. Using TEKLA software, all trades see up-to-date, 3D schematics keeping them on the same page.
SWF Industrial: Let's Build a Partnership
We take deep pride in our relationships with our partners, from local contractors in the water and wastewater industry to multinational food and beverage companies. Our project management acumen and on-site professionalism are just two ways we demonstrate our dedication to building partnerships that last. Through excellent communication, flexibility, and pride in our craft, we build more than products, we build relationships.
Looking for the right partner for your industrial or commercial fabrication or metalworking project? SWF proudly offers industry-leading services, experienced, long-term employees, and decades of expertise. Start a conversation with our experienced team today to discuss your project.