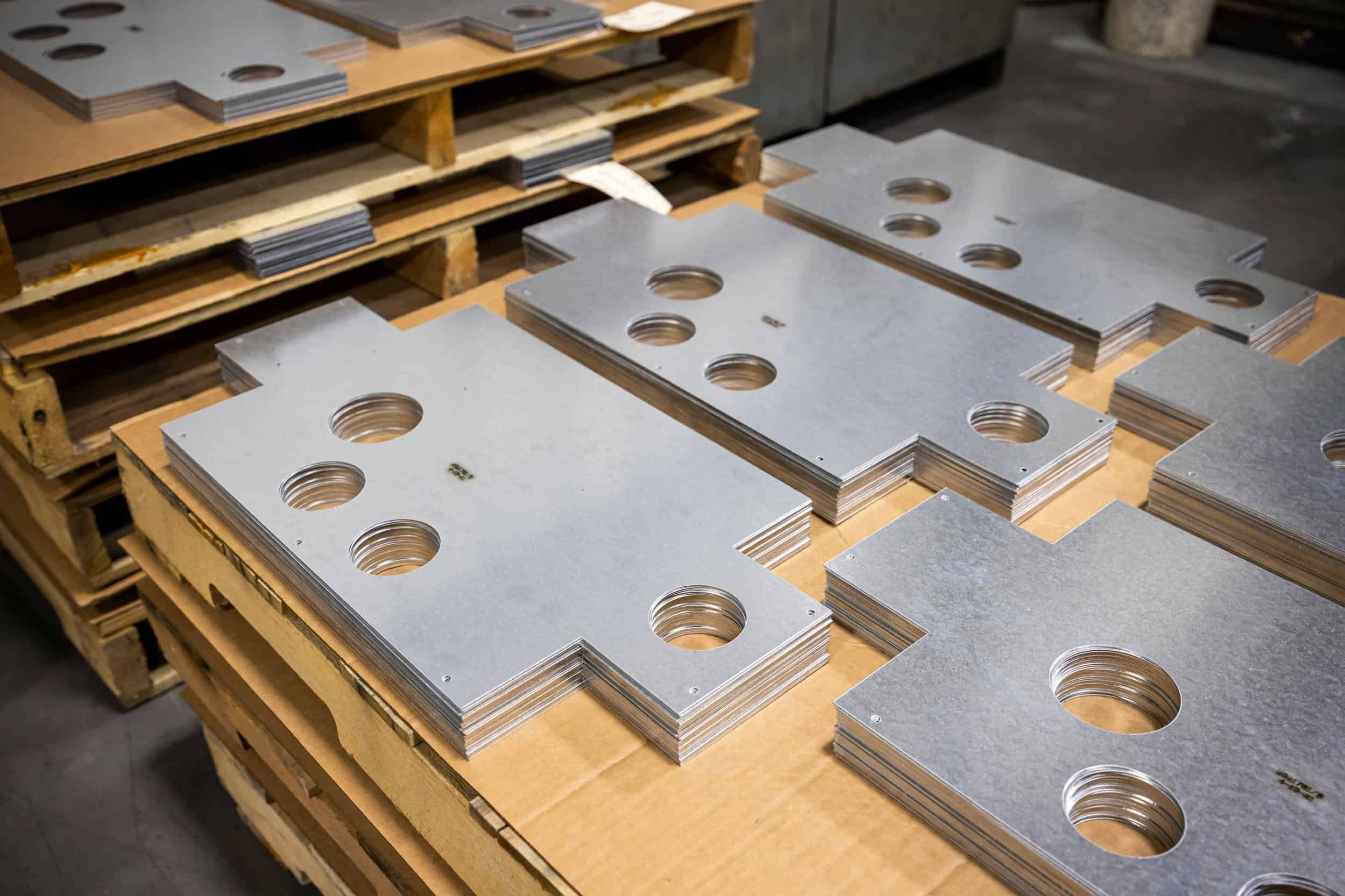 SHEET METAL
SWF Industrial is a leading provider of high-quality sheet metal fabrication solutions for applications in various industries. With state-of-the-art equipment and experienced personnel, SWF expertly delivers a wide range of sheet metal fabrication. SWF's mature project management philosophy enables precision-made complex parts with quick turnaround times while ensuring all products meet the highest quality standards.
START A CONVERSATION
COMMON SHEET METAL APPLICATIONS
SWF Industrial produces high-volume precision sheet metal products, parts, add-ons,
attachments, and accessories. SWF also fabricates parts for large components like ductwork and ventilation systems, enclosures, hoods and panels, guards, and industrial countertops.
DUCTWORK & VENTILATION
With a team of experienced and well-trained expert fabricators, SWF provides sheet metal solutions for custom ductwork and ventilation, specializing in difficult duct transitions. SWF's expansive capabilities include cutting, forming, welding, and finishing various sheet metal types to create high-quality and durable ductwork and ventilation systems. SWF Industrial's team utilizes state-of-the-art equipment and techniques to ensure precision and efficiency. Our team of experienced technicians and engineers work closely with clients to ensure that all projects meet their specific requirements and standards.
REQUEST A QUOTE
ENCLOSURES
SWF Industrial delivers industry leading sheet metal enclosures. With decades of experience and expertise, SWF also fabricates enclosures from materials such as stainless steel, aluminum, galvanized steel, and carbon steel. With a focus on quality and precision, SWF creates customized enclosures that are both durable and functional, meeting customers' unique needs.
REQUEST A QUOTE
GUARDING
SWF has a proven track record of producing high-quality guards for various applications, including high volume precision parts. SWF precisely fabricates guards to meet your specific requirements and improve the safety of your work environment. SWF provides a broad range of services including laser cutting, laser welding, bending, turret punching, painting, deburring, and powder coating.
REQUEST A QUOTE
HOODS & PANELS
SWF Industrial creates customized sheet metal hoods and panels that meet customers' unique requirements. With a commitment to excellence that ensures fabricated hoods and panels are built to last, SWF offers cutting, bending, and fabricating services to deliver high-quality products that meet your needs.
REQUEST A QUOTE
INDUSTRIAL COUNTERTOPS
SWF builds custom industrial countertops with sinks and other openings to fit your specific requirements and process needs. SWF Industrial's decades of experience in stainless steel sheet metal fabrication provide precise, sanitary countertops for various industries, including food and beverage, and medical and pharmaceutical. With a thorough understanding of the special requirements within those industries, SWF Industrial creates customized industrial countertops that meet the rigorous sanitation standards.
REQUEST A QUOTE
VOLUME PRECISION
SWF Industrial provides consistent accuracy, precision, and high-quality fabrication services like laser cutting, turret punching, bending, and welding, for projects that require high-volume sheet metal parts and components. SWF meets the exacting standards of its customers, delivering consistent, quality parts and components manufactured to tight tolerances.
REQUEST A QUOTE
"
Their management staff understands procurement, schedule, design, QC and safety.
"