SWF Welcomes Tommy Phipps: A Rising Star in Metal Fab and Welding
In the world of fabrication, talent and skill are highly sought after. SWF Industrial recently welcomed Tommy Phipps, a promising young professional with a strong background in metals, fabrication, welding, and welding technology.
Not to mention a heaping helping of dedication, talent, and skill.
Tommy's addition to the team underscores the company's commitment to nurturing talent and continuous learning. He has shown himself to be highly motivated and a valuable asset.
Tommy's Journey and Skills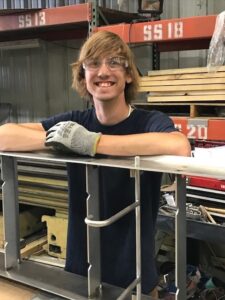 Tommy's journey in the industry began even before high school, when he discovered his passion for metalwork. He and his friends are avid car lovers. With a background that included learning a bit about metalwork, he started to teach himself welding in his garage, so that he could make the custom-fabricated parts he needed for his cars.
His keen interest in metal fabrication continued to grow through high school and his time at CTC, where Tommy excelled in his studies and showcased consistent academic performance. Recognizing his potential, his instructors, Ian Weber and later Andy Huber, quickly became mentors and guides. He would go on to earn several awards.
Tommy displayed raw talent and a strong work ethic from an early age. His skills and dedication have only grown stronger as he progressed and attended CTC. Tommy's awards and accomplishments testify to his hard work and commitment to personal growth.
Family Influence and Passion
Long before Tommy was in the garage trying to whip up custom motor mounts, he learned a love of craftsmanship. Tommy's appreciation for working with his hands runs in his blood. Both his grandfather and his father were mechanics.
His profound family influence and passion for making things led him to take up specialized welding courses. His family's support, those courses, and his time at CTC would help set the foundation for his launch into the industry as a high school graduate.
Award Winning Student, High Quality Craftsman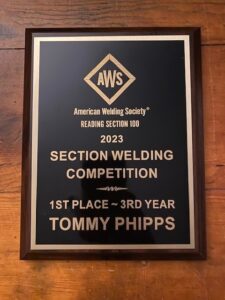 Tommy has also won several awards. In his junior year, at CTC, he received the Distinguished Honor Roll award for a 4.0 GPA and took 3rd Place Skills USA District. 
In his senior year at CTC, he made Honor Roll, and took 1st place in Skills USA District, 4th place Skills USA States, 1st place American Welding Society Regional Competition, and the Most Outstanding Senior Award.
According to John Forwood, of SWF, Tommy's work speaks for itself. He is already working in their premier stainless steel fabrication bays, welding equipment for some of the nation's largest manufacturers and OEMs within the food, snack, and beverage, medical, and pharmaceutical industries.
"Even if he left tomorrow, he'd get a letter of recommendation," said Forwood, "he's a class act who is doing high quality work."
Thriving at SWF Industrial
Tommy's journey at SWF Industrial has taken off quickly, and he has shown his dedication to improvement and quality work. Thanks to its employee-oriented ethos, SWF Industrial provides a supportive environment and focus on skill-building, encouraging the team to progress in their careers.
With a strong metal fabrication and welding foundation, Tommy has high aspirations for his future. While he excels as a welder, he hopes to take on more supervisory or foreman roles after developing his skills. Tommy recognizes that technology is vital to the industry's future and appreciates the cutting-edge equipment and tools available at SWF Industrial.
Some day, he plans to own his own shop to fabricate custom, quality parts for the cars he still loves with all his heart.
SWF Industrial: Looking to the Future
Tommy Phipps' journey from high school through CTC, to SWF Industrial showcases the importance of technical schools in nurturing talent and providing viable career paths. With his dedication, skills, and ambition, Tommy is poised to contribute significantly to SWF Industrial and the broader industry.
His success inspires the next generation of fabricators and welders, highlighting the possibilities of a rewarding career in this field.
Related Read: SWF Industrial Welcomes Award Winning Graduates