Employee Spotlight: Mary Phong's Superpower
Everyone at SWF Industrial knows about Mary Phong's resilience and grit. In fact, CEO Brandon Stanchock says Mary seems to thrive in difficult situations. Whether it is a tough dilemma or a customer that is facing a unique problem, that's when Mary is at her best.
"She just never gives up, and always finds the best solution," Stanchock said. "It is her people skills. The quality to bring everyone together. It's a superpower that not everyone has."
Reinventing Business Development
It's a superpower Mary has leaned on often during her decade in Business Development at SWF. Armed with a marketing degree, Mary came to SWF after working for a manufacturer of architectural railings, where she worked closely with the construction industry, as well as architects and general contractors.
She joined SWF in 2012, during a time of great change for both the industry and the company. The construction industry "took a dive," as she explains it, but was beginning to recover from the long-lasting effects of the recession in 2008.
Additionally, SWF was at a crossroads of sorts. The company was reinventing itself and changing how Business Development was done in the fabrication world.
Gone were the silos, pods, and regions. Additionally, the Business Development team was asked to work together and be involved in all aspects of the transition. 
Both Mary and Stanchock agree that this was not an easy transformation.
"Initially, it was almost shocking that Brandon was saying, 'Hey, we're not going to call you salespeople anymore,'" she said.
"We were going to be part of business development," Mary continued, "and we had to stop and ask, 'What does that mean?' It meant you had to look at your role in a new light, see the bigger picture and know you wanted to be a part of it. It forces you to look at things a bit differently, and you start looking at relationships differently, both internal and external."  
Embracing Change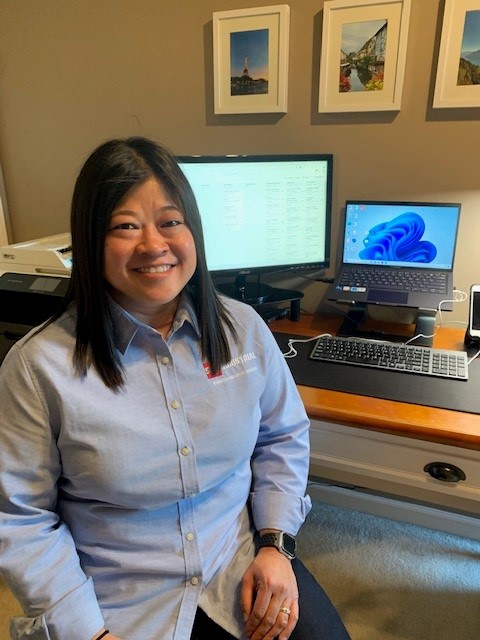 The transition was not a difficult task for Mary. She stepped up and embraced change, viewing her role in a new light and reevaluating her relationships with both clients and the company.
More importantly, Mary's ability to adapt and find a balance between advocating for the customer and the best interests of SWF Industrial has been instrumental in maintaining strong relationships while driving growth.
"The things we ask [our business development team] to do are very outside of the box, and she took to it almost instantly," Stanchock said.
The key, Stanchock said, was Mary's willingness to embrace anything and everything that is difficult. Whether it is finding a difficult solution for a client or changes in the structure of the company, Stanchock says Mary is ready to tackle anything.
"Her openness and willingness to be flexible," Stanchock said. "The way we do BD is probably different than most companies in the sense that we don't have regions, we got rid of all the pods, not everyone is in a silo, we were asking people to work together, it was a massive change, and she was ready to tackle it head-on."
Blazing a New Trail
In such a traditionally male-dominated industry, Mary made dramatic inroads. No, it hasn't always been easy, but Mary doesn't really see herself as a trailblazer.
However, she sees the business changing and growing across the board. From the way SWF handles Business Development, to revolutionizing its fabrication process by creating state-of-the-art facilities with advanced welding equipment – including laser and plasma cutting, and laser welding, as well as its project management prowess – SWF has been a leading force in that change.
With the industry breaking into automation, Mary has seen SWF come together in real time and sees endless future possibilities.
Mary said if a trail is blazed, it is by SWF.
"I think we're different. We are kind of an outlier," she said. "We're blazing a trail by taking an approach in an industry that has remained the same for decades."
Impact Can't Be Overstated
Yet, there are still some things that remain tried and true. SWF is still great at high-end metal fabrication and industrial construction. But, Mary says, when you get to the point, SWF is different all across the board.
"Everyone at SWF is very talented, creative, and bright," she said. "In the past, there was a stigma about manufacturing and the trades, and I am glad that over the last 20 years that stigma has changed, with manufacturing finally being recognized as the highly-skilled, and creative industry that it has always been."
At the forefront of that change, Stanchock says, is Mary.
Her impact can't be overstated, and her dedication, resilience, and ability to adapt to changes have helped the company grow and create a more inclusive, collaborative, and supportive work environment. With Mary helping to lead the charge, the future looks bright for SWF Industrial and its innovative approach to fabrication services.
"Sometimes there are difficult conversations that people don't want to have," Stanchock said. "So, they ask Mary if she can take it on and run with it, and she always steps in to help. Not everyone is good with conflict or change, but sometimes you have to step in the mud."
It is in those difficult conversations that Mary's ability to bring everyone together and find solutions truly shines.
SWF Industrial: Not Afraid of Doing the Difficult Task
Mary Phong's incredible journey at SWF Industrial exemplifies perseverance, adaptability, and leadership. As the company continues to evolve and make a lasting impact in the fabrication services industry, it's clear that Mary's passion, vision, and determination will play a pivotal role in its ongoing success.
Meanwhile, employees like Mary are SWF's greatest asset as they continue to deliver quality results. Learn how SWF Industrial can deliver proven results for your next industrial, commercial, municipal, or water/wastewater project. Start a conversation with their experienced team today.