Employee Spotlight: Kevin Boaman Delivers on Time
Dan Armstrong, the Plant Manager for SWF Industrial, cuts right to the point when talking about Kevin Boaman. As a crew leader for a fabrication team, Boaman is downright maniacal regarding deadlines and delivery day.
He refuses to miss them. Period.
"Kevin is tenacious. He is top of the pile when it comes to efficiency and delivery dates," Armstrong said. "We live, breathe and die by efficiency and delivery dates, and he has a special gift and dedication." His success did not happen overnight. To become a leader at SWF Industrial, Boaman showed true character and commitment as he climbed the ranks.
Kevin Boaman: from Helping to Leading
After graduating from Thaddeus Stevens College of Technology in 2010, where he studied metal fabrication and welding, Boaman joined SWF after receiving three job offers. At SWF, he began his career as a helper, learning the tricks of the trade and growing his skillset. Quickly, though, he became a welder and soon after became a crew leader.
When Armstrong became the plant manager, Boaman became an assistant crew leader before eventually splitting off and leading his own crew in 2019. Boaman attributes his quick rise in the highly competitive welding and fabricating world to his willingness to reach out to and learn from those who have a lot of industry experience.
"A lot of younger people struggle with asking questions or being afraid to ask questions, thinking that the old guy in the shop doesn't know anything," Boaman said. Luckily, he was quite willing to ask and learn, and says his instructors at Stevens were great mentors. Many of them were once fabricators and project managers.
The Method to a Successful Career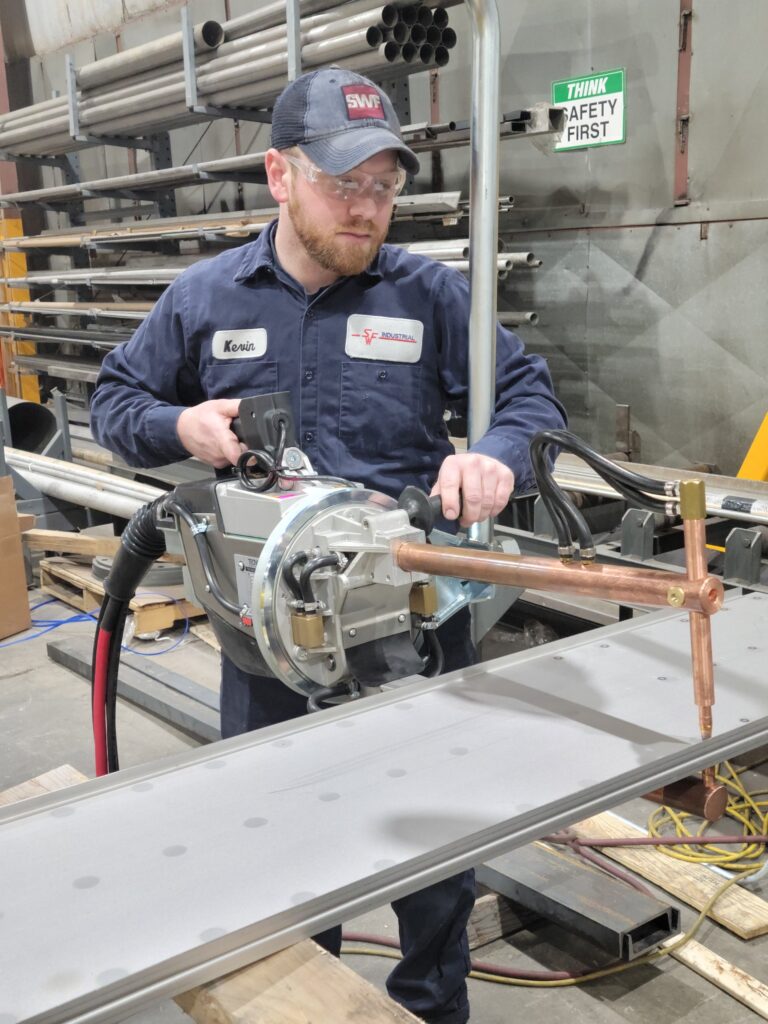 There are several ways Boaman made a successful career in welding and fabricating at SWF over the last dozen years. He shared what he felt was the method to his past, present, and future success.
Absorb Everything You Can Learn
Boaman says a good welder and fabricator must "be a sponge for knowledge and learning skills." That means asking questions and absorbing as much information as possible, even if you feel intimidated or you already know what you need to know.
Have a Relentless Drive
Throughout a conversation about what motivates him, Boaman mentions deadlines, due dates, and delivery days often. "I am relentless on due dates," he says. "I do not miss due dates. Period."
That ingrained motivation and drive is part of what led SWF and Boaman to each other, but it goes deeper than that. Boaman says it would be difficult to meet those tough deadlines without a strong corporate culture and a foundation of teamwork.
"You have to put in the time," Boaman said. "You have to come in early, you have to stay late, and you have to find the people who are willing to step in and get the job done." Initiative and responsibility are embedded into the culture, and highly rewarded at SWF.
Building a Reputation
Boaman is well known at SWF for his drive and his ability to do what it takes to get the job done. After 12 years at SWF, his reputation precedes him and motivates others. He's also always willing to lend an ear and a hand to his younger colleagues and help them develop their craft and find their footing in the industry.
There are legendary stories at SWF about how Boaman and Armstrong worked around the clock to finish projects for clients so they could deliver it on time.
"Kevin is on the elite team," Armstrong said. "He does what it takes to get things done on time."
SWF Industrial: Trust the Professionals
Meeting deadlines is part of the culture at SWF Industrial, and our people, like Kevin Boaman, are our greatest asset in continually delivering the quality expected, on time, every time.
Learn more about how SWF Industrial can deliver exactly what you expect, on time, for your next industrial, commercial, municipal, or water / wastewater project. Start a conversation with their experienced team today.